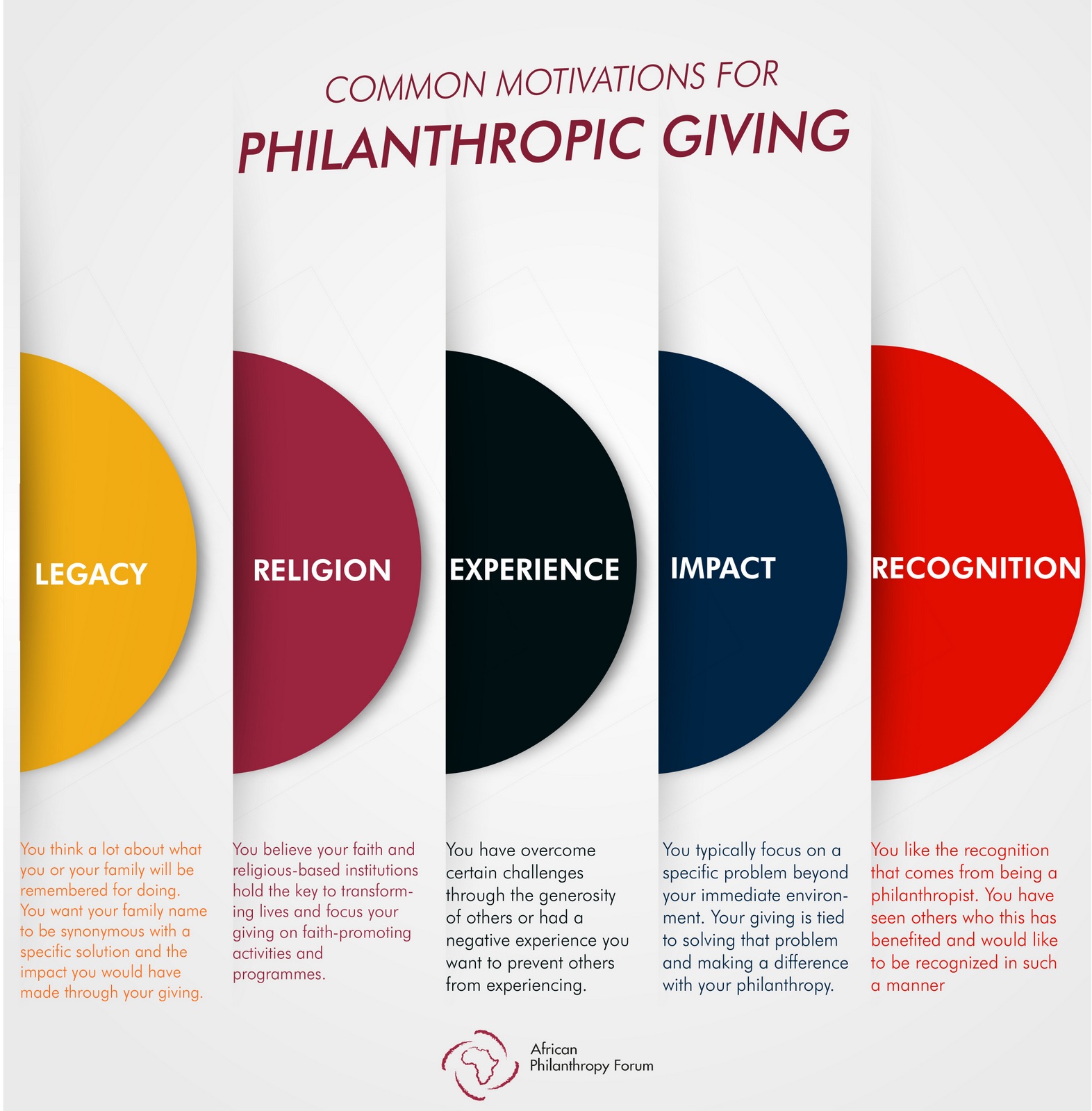 Asking yourself why you are getting involved in philanthropy is a necessary first step in understanding your motivations. For some, philanthropy is largely inspired by a sense of being able to right a wrong that was experienced or witnessed. Or, it might be driven by a particular conviction behind solving a specific social problem. For others, it may be a combination of factors including family legacy, religion, and impact. Whatever your motivations are, it is important that you understand and acknowledge what drives you.    
The reason for this is simple.  
Embracing your motivations will keep you focused on specific issues and goals. In the long term, it will help you make better decisions about how and where your resources will be applied. It will also help those advising you to have a clearer understanding of the ethos behind your philanthropic giving.    
Consider the motivations behind the work of two philanthropists: Noella Coursaris, Founder of Malaika based in Democratic Republic of Congo and Patrick Ngowi, Founder of Light for Life Foundation in Tanzania:   

Noella Coursaris Musunka, Founder of Malaika.org, relates why education is the path to empowering underprivileged communities.
Noella Coursaris lost her father when she was only five years old. Her mother, who was considered "uneducated" did not have the resources to take care of her and sent her to live with relatives in Belgium. She did not return to Congo until she was a teenager armed with the belief that if more girls received an education, they will grow up to be able to take care of themselves and their families. According to Coursaris, "I realized at an early age that education, particularly for girls, was the key to building strong families and communities." Malaika was formed as a result of this personal experience. Today, Malaika focuses on empowering Congolese girls through education and training opportunities.  

Patrick Ngowi, Chairman of the Light for Life Foundation, talks about his work to create a sustainable model for transforming Tanzania's energy economy.
Ngowi, on the other hand, was a successful renewable energy entrepreneur before he decided to venture into philanthropy. He discovered that there were several communities around him that had inconsistent and, in some cases, no access to electricity – they were essentially, off-the-grid. In addition to the energy issues, there was a prevailing lack of opportunities and he wanted to change this. For this reason, he set up the Light for Life Foundation, donated 1000 solar kits to women and youth who were trained and supported to generate new streams of income. Today, he partners with different organizations to bring renewable energy to other off-grid communities in Tanzania.  
Just like Coursaris and Ngowi, embracing and articulating your motivations will sharpen your strategic focus and help build the ethos behind your philanthropy. Understanding your 'why' for giving is important whether you are a veteran philanthropist or first-timer; whether you are motivated by past experiences or current problems in society.  
Some common motivations for philanthropic giving can be summed up in the following categories, none of which are mutually-exclusive.  
Legacy: You think a lot about what you or your family will be remembered for doing. You want your family name to be synonymous with a specific solution and the impact you would have made through your giving.
Religion: You believe your faith and religious-based institutions hold the key to transforming lives and focus your giving on faith-promoting activities and programmes.
Experience: You have overcome certain challenges through the generosity of others or had a negative experience you want to prevent others from experiencing. You see philanthropy as an opportunity to correct these situations.
Impact: You typically focus on a specific problem beyond your immediate environment. Your giving is tied to solving that problem and making a difference with your philanthropy.
Recognition: You like the recognition that comes from being a philanthropist. You have seen others who this has benefited and would like to be recognized in such a manner.
What is your motivation for giving?
—
This article is an excerpt from the first edition of the Toolkit for African Philanthropists published by the African Philanthropy Forum. To learn more about this toolkit, please visit here
Read Details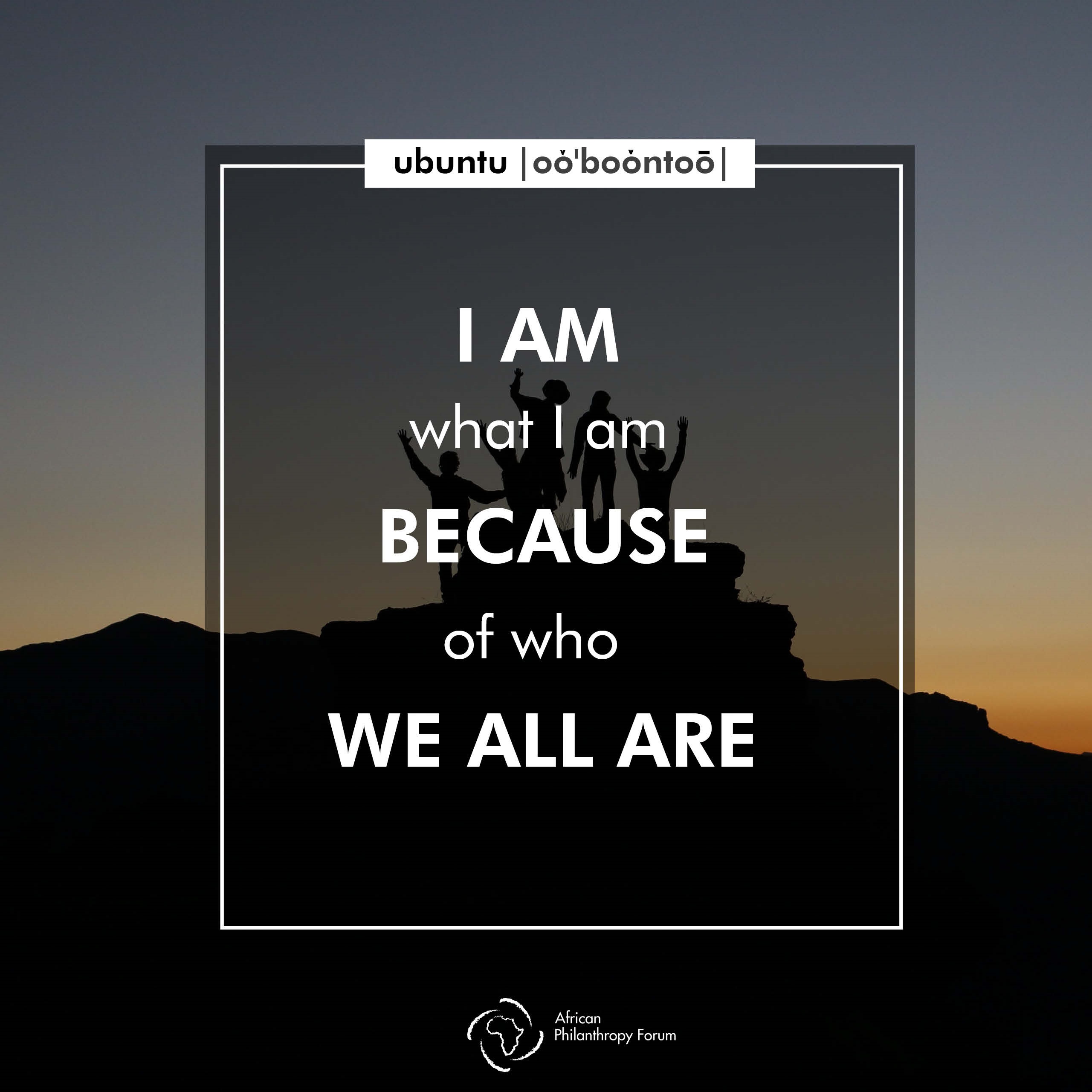 The Benefits of Organized Giving Explained by Her Royal Highness Queen Sylvia, the Nnaabagereka of Buganda at the 2017 APF Annual Conference
There are several benefits to organized giving.  The first benefit goes back to the interconnectedness that the Ubuntu philosophy espouses – the notion of community, caring and connection. In a world where formalized organized giving structures are in place, structures governed by legal rules and an ethical code of conduct,  tangible links are created between givers and beneficiaries. This link is what actually serves to keep us human. To have us looking out for the disadvantaged members of our society..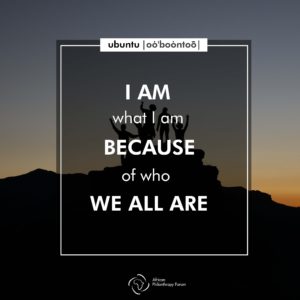 To have us constantly reminded that "a person is a person through other persons." This link between the giver and the receiver also allows a dialogue to take place between the two entities. Hence your wealth is put to good use and in turn, the members of the community have actual needs met.
The second and perhaps most obvious benefit of organized giving is that it moves society from the "quick fix" scenarios that many of us are familiar with.   I am sure a number of you can relate to being called upon to contribute to a particular cause and you willingly do so. The following year you realize that the mechanism that existed the previous year to support that particular cause may have disbanded – without bringing about the much needed results or impact.
Organized giving either through a Foundation, a trust or an endowment gives that solution far more longevity than the quick fix you participated in.   Another advantage to organized giving is that structures like foundations, endowments and trusts, among others offer a sense of perpetuity to a philanthropic endeavor. That way a person's impact on their community is continued to be felt long after their departure from earth.
The fourth and last benefit to organized giving is that it amplifies the impact – because there is strength in numbers. Formal structures like foundations and trusts for example, also allow everyone – regardless of their income – to participate in making a lasting impact.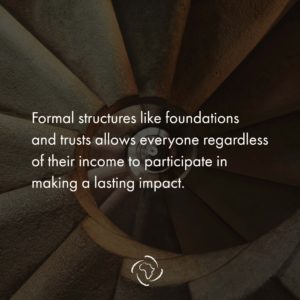 The focus here, is not on the amount given – because for sure, some will give substantial amounts while others may not. The focus instead, is on consistent giving. But without formal avenues for consistent giving, the entire society loses out unknowingly.At APF, we promote philanthropy by raising awareness about the important role that strategic philanthropy can play in the society and we encourage wealthy Africans to structure their giving to achieve scalable impact. You can join our network of philanthropist by applying to be a member here
—
This article is an excerpt from the first edition of the Toolkit for African Philanthropists published by the African Philanthropy Forum. To learn more about this toolkit, please visit here
Read Details